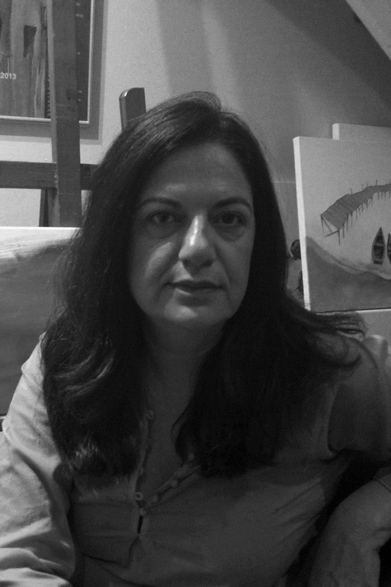 Dora Kentarchou was born on Corfu.
She studied at the Department of Painting of the "Αccademia di Belle Arti di Napoli", in Italy, from 1989 to 1993 and she graduated with First Class Honours.
She is a member of the Chamber of Visual Arts of Greece.
Has been given her first lessons on drawing and colour by her father, a Corfiot water-colour artist and then enrolled to the School of Arts of Corfu.
Painting Exhibitions
– Academy of Fine Arts of Naples, graduates' exhibition, 1993 (group exhibition)
– Cultural Centre of Athens, Bouziani Chamber, Athens, 1995 (personal exhibition)
– Municipal Theatre of Corfu, Corfiot Conjectural Autumn, Corfu, 1996 (group exhibition)
– Municipal Gallery of Corfu, Art Cafe, Corfu 1998. Local exhibition of the team «Etnia-Associazione Culturale di Napoli» (group exhibition)
– Group exhibition organized by the Chamber of Visual Arts of Greece at "Technopolis of Athens", Athens, 2001
– "Young Artists Exhibition", organized by the Chamber of Visual Arts of Greece at
"Technopolis of Athens", Athens, 2002 (group exhibition)
– "Visual display of Preveza", Preveza, 2002 (group exhibition)
– "Acqua e sale", Salento, Italy, 2003 (group exhibition)
– Young Artists Exhibition "Vision – Space – Action", organized by the Chamber of Visual Arts of Greece at "Technopolis of Athens", Athens, 2008(group exhibition)
– "Under the Candlelit", exhibition organized by the Municipal Theatre of Corfu, the Ionian Parliament, Corfu, 2013 (group exhibition)
– Water Colour Festival of Greek and Russian Artists, The Ionian Parliament, Corfu, 2013 (group exhibition)
– "Ionian Sea", exhibition organized by the Maritime Ministry of Greece and the
Municipal Gallery of Corfu, Municipal Gallery of Corfu, 2014 (group exhibition)
– "Light", Municipal Gallery of Corfu, 2014 (group exhibition)
– "Arcadia and I", exhibition organized by the Ministry of Culture of Greece and the Ephorate of Antiquities of Corfu, Old Fortress of Corfu, 2015 (group exhibition)
– "Conjectural Diary", exhibition organized by the Ministry of Culture of Greece and the Ephorate of Antiquities of Corfu, Old Fortress of Corfu, 2017 (group exhibition)
– "Landscape", Technochoros Gallery, Ioannina, 2017 (group exhibition)