Corfu Gallery is located in Corfu Town, in one of the oldest streets, Nikiforou Theotoki.
This street, with its endless rows of vaulted arches, stone columns and tall buildings, epitomizes the essential characteristics of the old town.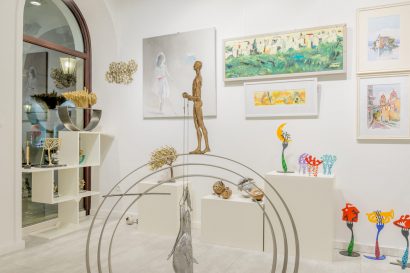 At Corfu Gallery, we aspire to create an innovative and unique collection. A mosaic of arts. Our philosophy is that art covers the whole range of human creation and we aim to explore and demonstrate this.
During the winter, we will host group and solo exhibitions. It is important for us to communicate at a human level with both our artists and you, our customers. Friendly relationships build mutual respect that helps us run an effective, professional business.
Our priorities include improving our services in creative and inventive ways, that mirror our artist's approaches, enhance their work and are increasingly attractive to our customers.
In Corfu Gallery, we are promoting Greek art and creativity by hosting a wide range of artists from Corfu and across Greece. In this way, we can highlight many different personal artistic "signatures".
Our artists range from mature, known artists who have won awards, represented Greece worldwide and been exhibited in museums and public places, to talented newcomers. We can give each of them the right place to display their work and be seen by art lovers.
The Gallery hosts Corfiot and Greek artists working across all types of media with different artistic visions. At our premises you will always find a choice of paintings, sculptures and art objects, which are constantly being renewed.