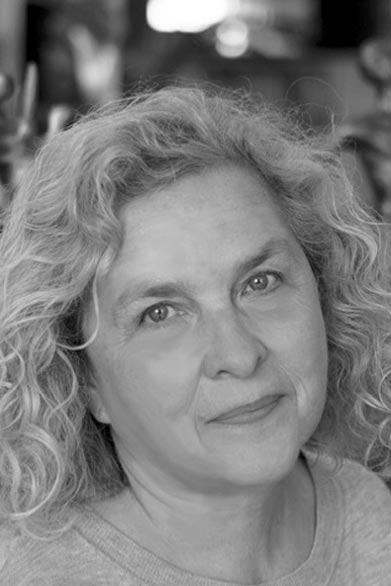 The sculptress Aggelika Korovessi is a graduate of the Athens School of Fine Arts and lives and works in Athens
The multi-award winning sculptress probes and studies cardinal concepts/structures of human history trough the sounds of language and the meaning of materials.
Through her long involvement with sculpture, one of her most important research studies was that of recording the sound of words as images.
She observes that the soundform of a word sometimes take the shape from winch it originates.
The Musical Sculpture is the amalgam of Music.,Technology and Art.
The original study contains elements of visual, audio and sound sculpture in combination with expression of speech, the content of concepts and the emotions they express.
She has represented Greece in international sculpture exhibitions.
Her work adorn public and private collections in Greece and abroad.
Aggelika Korovessi is a Beijing-2008 Silver Olympic medalist with her work "Peace-Armistice".
Aggelika Korovessi was born in Pyrgos of Ilia.
During the years 1970-1975 she receives a grant scholarship and studies sculpture at the School of Fine Arts, Athens with professor D. Kalamara.
She then studies reconstruction methods with A. Gerasimof and is awarded the title of Anthropologist-sculptor.
Awards
The artist has been awarded many prizes in Greece, Cyprus, and abroad.
-By the United Nations ("International Peace Award" for her contribution in the Dodecanese UNESCO Association. 1996)
-In Rome (9th Premio Internationale: Fontane di Roma 1998)
-In Beijing (silver Olympic Medal Award in the International "Olympic Spirit in Beijing 2008" Competition).
Aggelika Korovessi has represented Greece in numerous international art events. Her sculptures and monuments are located in many public places in Greece and Cyprus.
The monument for National Resistance in Korakolithos Viotias is a famous tourist attraction.
Other famous monuments:
-Melina Mercuri's bust, "Communication" for the Greek National Radio Foundation.
Exhibitions
Since 1975 Korovessi has participated in numerous exhibitions in Greece and abroad.
Some of her most recent and famous exhibitions:
2013:
– "Time, Form, Concept" retrospective exhibition, National Archaeological
– Museum of Greece, Athens
– Joint Exhibition at The House of Luxury gallery, London
2008:
– Group Show: Beijing Olympics, Silver Medallist. Olympics Landscape
– Sculpture Design Contest. Work entitled 'The Spirit of the Olympic Games – now in China. Travels to 25 Country's and 28 Cities
– 2nd Conference on "Greek Language Writing and Art" curated by the "Chamber of Fine Arts and the National History Museum"
1975-2005:
– Exhibits her work in France, Spain, Rome, UK, Belgium, Netherlands, USA, Hague, Los Angeles, Washington DC and Greece.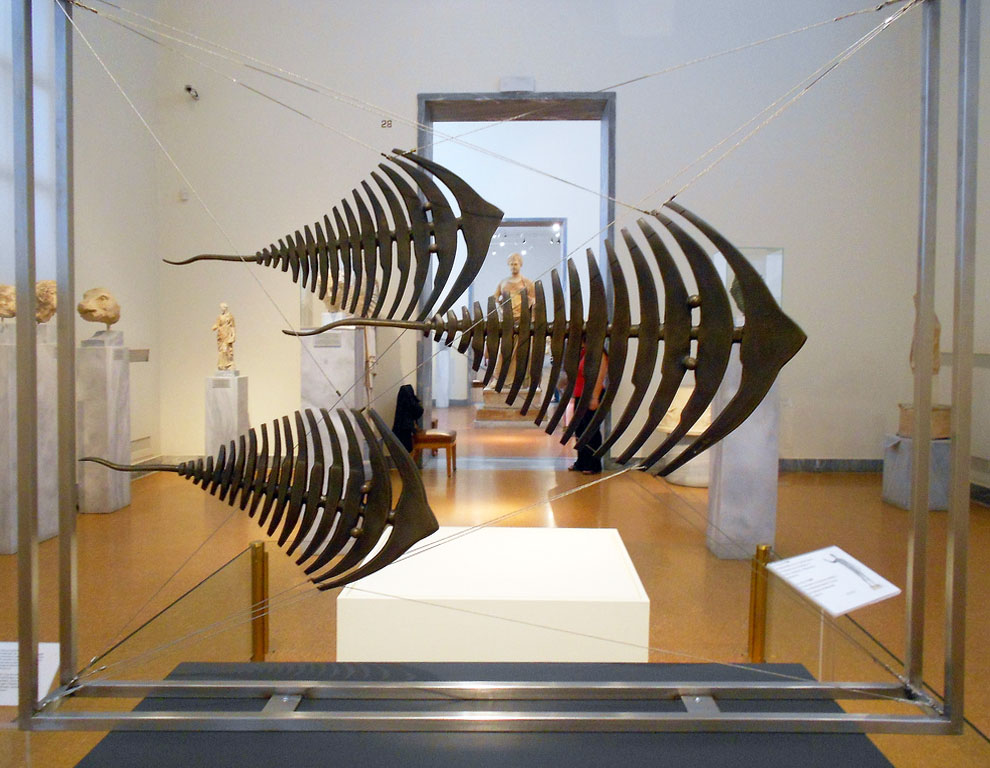 Collections
Her works are in many private and public collections throughout the world including:
– The Hellenic Museum and Cultural Center, a National Institution of Chicago, USA
– City Town Hall, London, United Kingdom.
– Italian Consulate and the Embassy, Athens
– Swedish Academy
– Stockholm City Hall
– Ministry of Culture of Taiwan
– Museum of the Greek Nobel Collection, Athens
– Cultural Development Foundation, The National Museum of China
– Jintay Museum of Modern Art, Beijing
– Plantation of the French Water company SIAAP
The visual space of Aggelika Korovessi's sonic words.
Aggelika Korovessi has familiarised herself with the possibilities offered by digital technology and has studied structural linguistics in depth. Not accidentally, she has become involved with two fundamental and relatively new disciplines of modern communication that carry, create and interpret human knowledge. On one hand, spoken language introduces images derived from experience that shape the codes of communication and eases remoteness between people. On the other hand, the structure of digital technology formation is poetic. When spoken language is input into and processed on a computer monitor, it forms phonetic digital images also known as wave forms. Wave forms are analysed and synthesised from mathematical formulas that do not appear on screen, and which thus are dynamic elements that could perhaps be used by modern psychics. The aesthetic value of digital wave forms is indisputable and the more we look at them in artistic terms, the more we realise the possibilities of developing them in the third dimension something that would be of interest to Op Art (Optical Art) artists, as it would open up a new research field dealing with the expansion of space by visual means. These days, Aggelika Korovessi does not need to create art that is dedicated to the power and perfection of machines, as was done by the futurists. Nor does she need to embed modern technological elements in her work, as was done by artistic movements in the 1960's. On the contrary, she has conceived and developed a unique visual-sculptural vocabulary using digital sounds, which has shattered the established aesthetics of traditional sculpture.
In the future, perhaps she will proceed to present compositions of coincidental digital music without being a musician and direct a mostly coincidental digital waveform film without being a director. By looking at her work, one could ask oneself "what is it that Korovessi does that a machine cannot do?" By reaching deep into the basics of language the artist realized that digital analysis of the sounds of words may explain how names were given to objects. Every word that relates to an object, a concept or a feeling is made of phonemes that are spoken at differential intensities. The sonic intensity of a word relates to the intensities in the shape and structure of objects or with the content of the meanings, phenomena or feelings they describe. Korovessi has realised that the depth of human intellect is relevant to the level of usage and knowledge of a language "the limits of my language define the limits of my word" (Vitkenstein) and has thus tried to create sonic sculptures to prove that art does not only involve artistic confession and experimentation, but also research and application. Without disrupting the poeticism in her sonic sculptures, the artist combines contemporary language with sensitivity. Sound is given- for the first time in (Greek) art- the same importance as sculpture and the fluidity of words identifies with the fluidity of sculptural form. Her result after numerous observations is a novelty of great importance, as it is based on scientifically valid methods. It is not accidental that in every waveform she identifies the quality and the variety of human nature that give existence its uniqueness. Ferdinard de Saussure used to parallel language with a musical symphony and speech with different live versions of the symphony from different orchestras. The orchestras would each time execute the same piece of music in a different way. Each sonic sculpture is an intellectual action of the artist, who tries to describe the scientific interpretation of the word linguistic communication codes in artistic terms. Although it might seen like a closed research circuit like the scientific fields of linguistics or intellectual technology, the result remains open to an international multilingual audience. If one can identify a variety of meanings in Korovessi's sonic sculptures, it is not only due to the rational structure of thought, but also to the psycho-physical state of the speaker, which contributes to the final image. It is a known fact that vocalisation of language, termed a " phonation". even when done by the same person using the same vocal actions to say a word (i.e. the same vocalisation machinery), is dependent on the psycho-physical state of the individual, thus adding further variability. Aggelika Korovessi's system is thus a combination of psychological state with rational interpretation which revitalises sculptural tradition with harmonious compositions in the intellectual context of 21st century technology.
Giannis Kolokotronis
Honorary Professor of the History of Art,
Thracian Polytechnic,
Architect and Engineering Department